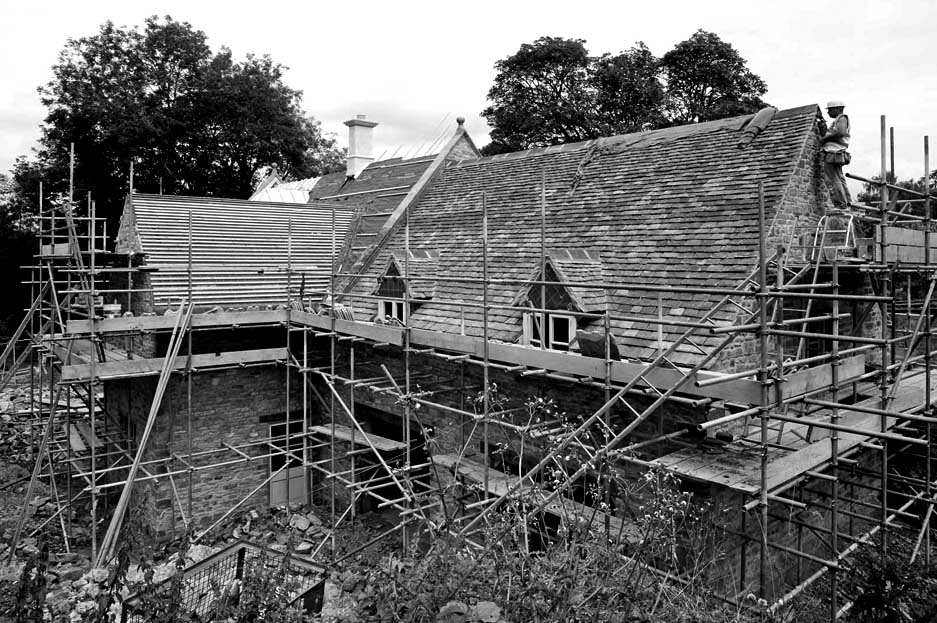 If this is the year you'll be undertaking a large scale renovation, you won't be alone. Already this year, the news and property pages are forecasting an extremely positive year for the UK property market on the back of solid growth reports in the final months of 2016 from manufacturing and construction firms. As is often the case, we once again expect a large number large scale renovation projects to be undertaken across the country too.
Now, we know that insurance isn't going to be the first thing on your renovation 'to do' list – but it's hugely important to understand your insurance requirements and obligations so that your project is fully planned and protected from the start.
Here's a rundown of just some of the key considerations you'll need to make before undertaking a 2017 renovation project.
How's it looking? Assess the property structure before you start.
You'll hear the term 'existing structure' – in essence the walls and boundaries that exist in the property you are renovating. Make sure you're clear on the type/s of construction and any listing on the building and get a fair assessment of the building condition. You'll also need to understand rebuild cost and be ready to disclose any unusual features or enhanced risks (for example, a history of subsidence or flooding) before you start. The insurance premium you pay and extent of cover you're able to obtain will be dependent on all these factors. Find out more.
What's it going to cost? Prepare a complete calculation.
As renovation insurance experts, we can help you calculate the correct sum so that your works are correctly insured. You'll need to estimate the total project duration from inception to practical completion, and have a broad understanding of the risks you're going to face, particularly enhanced risks, so that the premium you're quoted can be viewed entirely in context. We share more here.
A large scale renovation project is a big deal. What's your liability?
It's common knowledge that building sites can be dangerous places, and, as the employer and property owner, you'll need to understand who is responsible for what. The extent of your direct liability for third party injury or property damage will depend on the set-up and management arrangements for the project. We tell all here.
Heard of The Party Wall Act (1996)? It might apply to your project.
Whilst The Party Wall Act may not be familiar to you, it will impose obligations and liabilities upon you in certain circumstances. Find out if the Party Wall Act applies to you here.
What about structural warranty – will you need it?
If you're undertaking a new build, or you are substantially extending your property, we'd recommend a structural warranty insurance to cover defective workmanship and structural issues in the future. The applicability of such cover is outlined here.
Will contents be left at the property? Make sure they're covered.
In high value renovation situations, the scale of work undertaken usually means renovators/property owners live elsewhere for the duration. Contents do sometimes stay on site though, and will need to be protected. Here's how.
Is the property unoccupied before work starts? You'll still need cover.
If you're purchasing a property for development, or moving out well in advance of the start of works, the current insurer is not likely to want to provide ongoing cover. Standard property insurers are generally not interested in insuring unoccupied property. We can arrange this cover for you in advance of the project start date. Find out more here:
Familiar with JCT Contracts? It's likely you'll need one.
A JCT Contract is a standardised, and well understood 'off the shelf' contract used within the construction industry to set out the responsibilities and obligations of all parties involved in your project, particularly you and your contractor. It is always our advice to utilise this contract, though we don't insist on it. You can find out more about JCT contracts here:
There you have it – eight essential renovation considerations to fully protect your project, your property, your pride and joy. Our underwriters will take you through all of this when you call up. We'll ensure you understand what you need and why you need it. They'll also be available to provide ongoing advice and support as your project progresses.
Renovation Insurance brokers is proud to place insurance for hundreds of large scale renovation project each year – directly working with renovators or in partnership with our qualified network of private client brokers, project managers and architects across the country. Get in touch with us to talk through your 2017 renovation plans.