Our Marketing Executive, Naweed Darr, gives us the lowdown on what it takes to be good at marketing in the insurance industry.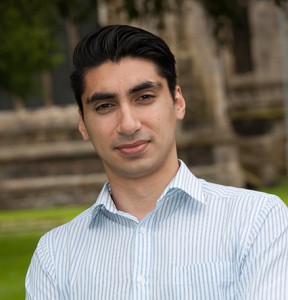 I got into this in the beginning because… I wanted to study a creatively orientated business degree; undertaking a BA (Hons) in Advertising and Marketing at De Montfort University in Leicester. I loved the idea of producing exciting campaigns for products and services.
The opportunity that presented me… at Renovation Insurance Brokers was a very unique and special one. I had the opportunity to join the organisation as an intern in the summer of 2015, as the organisation started to build its marketing activity. The impact of our proactive marketing activity was evident and since then I have taken the role of Marketing Executive to coordinate the varied number of campaigns across the organisation – such as the Brokers CPD campaign. Looking back now, accepting the opportunity was a great decision and I look forward to the bright future ahead with this company.
We all know that insurance… is hugely important but it's not necessarily a sector that has a history of being dynamic in marketing terms. Here at Renovation Insurance Brokers, we work hard to look at new ways to engage with our audiences, in a unique and impactful way. With so much 'noise' and promotional clutter already present, it's become ever so easy to fade into the background. I believe the key to communicating effectively is to be creative, unique, relevant and targeted in your messaging. It seems obvious but you'll be surprised how many fail to do so.
The challenge with renovation insurance… is that whilst it's an important requirement within any renovation project, many a time, it's not something that is considered until very late on in the process. Therefore, part of my role is to ensure that we communicate our message effectively in all the right places in accordance with our three key markets -architects, brokers and renovators. I believe the key is to create an open two-way dialogue, in which we can adapt quickly to the behaviours of our audiences whilst developing an exceptional brand experience around them; remaining true to our existing brand identity that has steadily developed over the years.
I'm fascinated by… how fast paced the insurance industry can be at times. As a marketer it definitely helps to keep me on my toes. I'm constantly having to keep up to date with hot topics and trends and tailor our messaging to match our audiences expectations, whilst doing so in a precise and timely manner. Whilst I keep up to date through various sources, nothing quite beats networking events where I get to meet people in person and develop real business relationships.
For marketing enquiries, contact Naweed directly on 01480 226 048 or alternatively by email on naweed.darr@renovationinsurancebrokers.co.uk.
Be sure to connect with Naweed on LinkedIn and stay up-to-date with the latest company and sector news by following Renovation Insurance Brokers on Twitter.