With 2016 coming to an end, we've started to reflect on the year we've had and the work we've done here at Renovation Insurance Brokers. We share some of the highlights with you here, in our last blog of the year.
We do hope that it's been a good year for you and that's where our year in review message starts.
Thank you for being part of the Renovation Insurance team
And we really do think of us all as a team. We're proud to have grown and maintained excellent relationships across the high net worth and Private Client Broker network. Each of the Brokers we work with plays a part in our business. Together, this year we've insured hundreds of large scale property renovations up and down the country…and that's thanks to you. Together, we are a winning partnership, bound by our desire to professionally and effectively support your clients with their renovation projects.
They say time flies, and it certainly has here. The 12 months we have experienced have once again seen us undertake a number of activities, leading to achievements that we are very proud of, including:
Assessing our approach. We like to think that we are doing a good job – we are passionate about our work and continually drive to offer the very best solutions with exceptional customer service too. This year, we directly asked Brokers what they really thought, with the first Renovation Insurance Brokers Annual Survey. We have to say that we were truly thrilled with the response, with 100% of Brokers rating our expertise as excellent or good, underlining the value we offer through our advice-led approach. We share more of our survey results in this end of year review piece.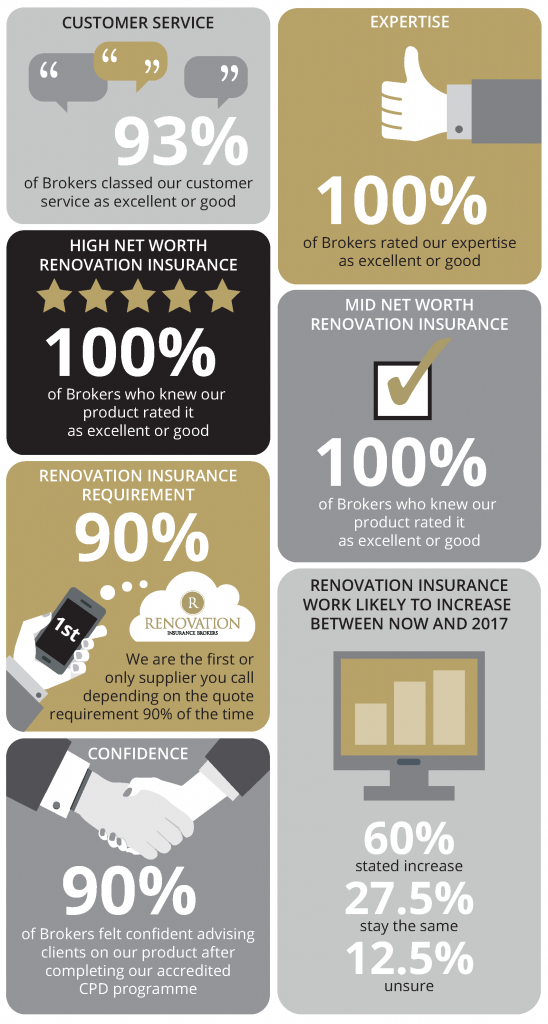 Dedicated CPD Training. We launched a brand new Renovation Insurance CPD training programme for Brokers at the beginning of the year, which proved very popular. The initial training dates sold out for January in under a week when advertised in December last year – and the number of dates more than doubled for the period to June 16 due to unprecedented demand. This not only displayed the demand for information on this topic, but also underlines the continuing commitment Private Client teams have in managing client expectations. Results of our Annual Survey showed us that 90% of Brokers felt confident in advising clients on our products, so the training is having the effect that we hoped it would. The demand for our training has been truly phenomenal, so it won't be a surprise to hear that we'll be running a new series from the beginning of next year. We're investing in making our training an even more engaging and rewarding experience too. Register your interest for 2017 CPD Training here.
Strong product portfolio. We've worked hard to develop a suite of insurance products that meet the needs of the market. This year's survey confirmed a 100% excellent or good rating in regards to our products too, which are unlike no others in that they give clients an all risks, peace of mind option at an extremely competitive price. We'll be undertaking a product review in early 2017 to continue to move us clear of our competition and give clients market leading cover in 2017.
Broker Portal. Our unique portal is well established in the Broker market after being launched nearly two years ago. The majority of our Brokers now have login details for the system, which enables them to obtain a renovation insurance premium indication for their clients more quickly than ever before. Find out about the benefits of using the Broker Portal here.
Clear renovation expertise. Since the very beginning, each year has seen us place insurance for an array of high value, unique renovations in all corners of the country, and this year has been no different. This year we've not only seen an increase in the number and size of projects, but also the complexity of both contracts and party wall agreements. It's a real mix – but each of the renovators and properties we have worked with have all been in need of an expert approach to their challenging insurance requirements. What is evident is that the need for clear and effective advice is at an all-time high, so it's worth gearing up to make sure you are able to cope.
An expert insurance team. Our long established team has continued to deliver on our vision this year, led by our Managing Partner Douglas Brown. Our senior underwriter Matthew Dover heads up underwriting in Cambridgeshire, while underwriter Chris Harris moved to our London office in Bury Street. We continue to invest in our marketing too, with Marketing Executive Naweed Darr rolling out consistent Broker communications.
Looking forward
We expect 2017 is going to be another intensely competitive year for us all and we hope to be part of your plans for that. A big and wholehearted thank you to everyone who has been part of Renovation Insurance Brokers success this year, we hope that your Christmas is restful and fun.