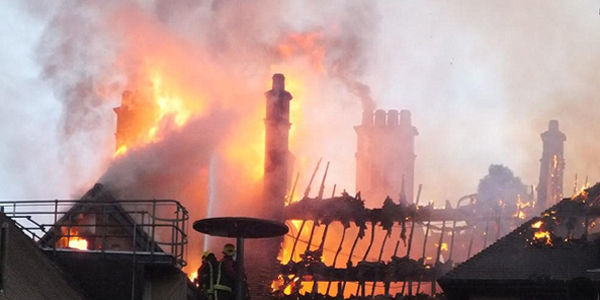 The last couple of weeks have seen the outbreak of fire in several buildings of historic importance. What are the steps you can take to make sure that your property is insured against fire damage during your renovation project?
The burning down of historic Eastbourne Pier on the East Sussex coast and the suspected arson attack on the former Cadbury family home (200-year-old Northfield Manor in Birmingham) have no doubt made you think twice about the importance of insuring your property against an unfortunate instance of fire.
This is of even higher priority during your renovation work, where your property is considerably more likely to be at risk of fire breaking out – either from arson or due to an electrical fault.
What fire insurance does your property need?
A fire not only spells damage in terms of structural damage, but also financial damage, considerable delays to the work schedule – not to mention the possible loss of human life.
Interestingly enough, when fire takes hold of a listed property, it often works out better financially if the whole property is destroyed – as opposed to the building being only partially destroyed.
This is especially the case with listed buildings, whereby it's often more expensive to repair a building (paying attention to traditional building materials used) following partial fire damage than having to rebuild a burnt down listed building – whose listed status 'dies' with the property. However, no one wants this for their beautiful building of course!
Most insurance policy underwriters will insure an unoccupied property for losses accruing from fire – along with those caused by lightning, earthquake and aircraft impact.
Thankfully, 1992 saw the publication of the Joint Code of Practice on the Protection from Fire and Construction Sites and Buildings Undergoing Renovation (JCOP). This followed in the wake of two particularly high profile fires that resulted in joint losses of around £150 million.
What is the Joint Fire Code?
The new code of practice details how property owners should make provisions for fire safety on site, along with providing further guidance on how to prevent and detect fire.
This industry-wide code, which generally tends to apply to contracts worth more than £2.5 million (but can incorporate lower value 'high-risk' projects) covers all aspects of construction fire safety – making you aware of fire safety considerations from the design stage or your renovation works to the material sourcing and construction stages too.
Testament to this ruling's success is that since 1992, fire incidences occurring on site have reduced dramatically.
Compliance with this code is often a requirement of your particular insurance policy and by complying with the code in your construction contract, this can often lead to a reduction in your insurance premiums.
Just make sure you don't contravene any of the code's guidelines, otherwise this could lead to you losing your insurance.
For more information on this fire code and what this means for you and your renovation project, take a look at this more detailed version of the joint fire code. For more general information on the other types of insurance needed for your renovation project, take a look at our Knowledge Base section.
Photo Credit: Caters News Agency