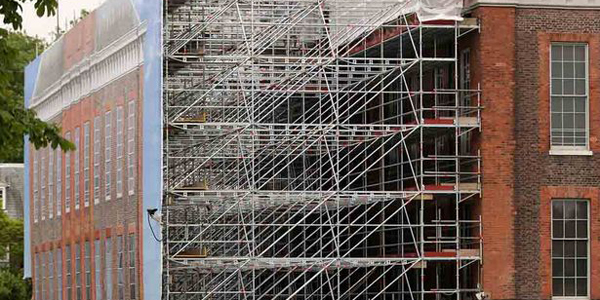 The Duke and Duchess of Cambridge's apartment at Kensington Palace has recently undergone a complete refurbishment.
Built in around 1605, the original Jacobean mansion underwent its first major transformation in the late 1600s when celebrated architect Sir Christopher Wren added a new entrance, courtyard and three-storey pavilions to each of the four corners so that the royal court of William and Mary could take up residence in 1689.
Future residents such as George I, Queen Anne and Queen Victoria all spent time refurbishing the property, as the Kensington Palace website explains.
Now home to the Duke and Duchess of Cambridge, who are new parents to Prince George, the couple felt the need to transform the property into more of a living space.
In realising this project, not only was a great deal of internal building work required, but also much time and effort spent painstakingly decorating and furnishing each room of this magnificent 20-plus room property.
From looking at Kate and Wills' renovation project, we come across several considerations worth being taken into account during the renovation of your own residential property.
Renovating a listed property
The fact that their Kensington Palace residence is classed as a scheduled ancient monument meant that, before any renovation work could be carried out, all details of the project had to first be given the green light by English Heritage. This was to make sure that all work undertaken was in line with the historical significance of the original building.
When you intend to work upon renovating a listed building, it's imperative that you adhere to the renovation guidelines applicable to your type of listed building, otherwise your application for planning permission has little chance of being accepted! Make it a priority to find out whether your building is listed (and what implications this has on the undertaking of any specific renovation work) before you begin drawing up your plans.
Asbestos in your property
If your property was built or refurbished before the year 2000, chances are there may be asbestos present, either in your floor tiles, ceilings or wall cavities. As with many older properties, there was a significant amount of asbestos present in the royal couple's Kensington Palace abode which needed removing.
This again is another consideration for you and your renovation project. Where you suspect asbestos may previously have been used in the building or renovation of your property, it's necessary to inform your local council and to ensure that the removed of asbestos is carried out by experts in a safe and controlled manner.
Plumbing and electrics
Due to the building's age, the Duke and Duchess had to organise for the complete overhaul of the electrical system, along with much plumbing work to restore running water to all parts of the 20-room residence. Chances are similar plumbing and electrical work may be required as part of your renovation project – involving anything from repairing a burst water pipe to replacing all the lead piping.
Further renovation considerations
In addition to these alterations, the couple also had to install a new roof and a second kitchen. No doubt Pippa Middleton is already in the midst of organising a spectacular house-warming party for Kate and William, with the help of her party-planning book, Celebrate!
We're also certain that the royal couple made sure to take out the necessary insurance to cover their renovation of such a historically important building. To find out which types of insurance cover you may need when carrying out your renovation work, take a look at our knowledge base.
Photo Credit: Getty Images