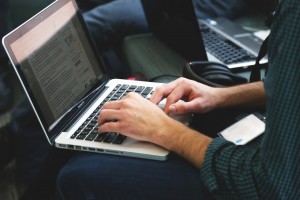 We're heading to the Broker Expo in Coventry this week, described as the premier event for insurance brokers looking for fresh ideas for nurturing existing business and for sourcing new market opportunities. As the market leader for renovation insurance, with strong relationships with brokers across the country, we're looking forward to being part of it!
One of the programme elements has particularly caught our eye – a digital think tank that will explore the key issues surrounding the Future of Broking as it develops digitally. The insurance sector is advancing and developing at a fast pace and we are really proud to be part of the mix.
We are told the future of broking is digital – something that we saw coming some time ago, developing new products to meet these expectations and to support business growth. We tell you more here.
So, is technology increasing the workload for brokers?
The very nature of technology is that it is designed to make things quicker, easier and more convenient. That's very much the approach we've taken with the development of our bespoke broker portal – providing the ability to connect into our renovation insurance products at the click of a button.
With resources stretched and time at a premium, our broker web portal has been developed to help our broker partners obtain a quote quickly. This 'Quick Quote' system offers an indication of the likely premium from just six pieces of basic information. Reducing the time that it takes for brokers to get quotations and to bind business is important to us all.
Are brokers losing their personal touch in an increasingly digitised world?
Just because technological advancements now support a broker's work, digital does not mean depersonalisation. At the heart of a broker's work is their relationship with their client – technology does not remove that or make it any less important. In fact, digital can actually help that relationship.
In any customer situation, we want to be served well. In the renovation insurance sector specifically, our clients want high quality products, expert knowledge and a quick turnaround. Our online broker portal is a key sales aid in that process – our partners can set client expectations early and let customers become more attuned to the costs of this class of business before having to buy a policy. A clear and consistent approach that clients will be happy with – and a great customer experience all round!
In our sector, it's not just the future that's digital – but the present too. We are delighted to be working with a growing number of broker partners to utilise our online offerings and are excited about the impact that digital is already making in the renovation insurance area specifically.
Want to know more?
If you place renovation insurance and are not yet part of our broker network, please get in touch to find out more about working with us and accessing our online portal. Once in the portal you'll have access to the Quick Quote facility, our new MNW £950 product and a full quote and bind system for both our HNW and MNW products that produces policy documentation.
Broker Expo takes place at Coventry's Ricoh Arena on 12th November 2015, presented by Insurance Age magazine. The 2014 event attracted over 800 representatives from broking firms in the UK. We'll be live tweeting using the hashtag #brokerexpo if you want to join us on the day – just follow us on Twitter here.