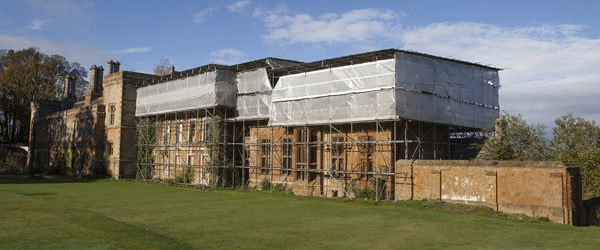 There is a misconception amongst both renovators and property professionals that standard insurance will cover renovation works, resulting in projects starting without adequate cover.
Late cover insurance explained
We always stress the importance of advising your clients to organise renovations insurance before they start, but if work has already begun you can access late cover.
The risks associated by insuring a project after it has started can be accommodated by late cover, but we will need a clear description of the entire project, including works already completed.
The value of insurance changes for late cover, as it takes into account the value of works completed, as well as the work remaining. For example, if you are renovating a £1m building, and to date £250,000 has been spent of a budget of £1,000,000, we'd expect the project information to reflect this.
If the £250,000 spend is in respect of the construction of an extension, then the Building sum insured would become £1,250,000 and the Works sum insured would be £750,000. However, please remember that not all work actually increases the rebuild cost of a structure. For example, if the £250k spend was in relation to structural repair then the sums insured would be better expressed as Buildings – £1,000,000 and Works – £750,000. It's always worth having a conversation with a specialist renovation insurance specialist to discuss your exact circumstances.
Why is late cover requested?
The most common reason we are approached about late cover requests is because the broker, architect or client are become aware that their standard insurance doesn't cover the renovation.
The other reason usually involves a change in the contractor, or contractors. There are usually three scenarios involving your contractor:
Your contractor has gone out of business
You have changed contractors, due to the above or other reasons
You have moved from using a main contractor to a series of smaller contractors
All of these situations may require you to need more liability insurance than previously, because the way the project is managed has changed, even if the final design has not.
What does late cover insurance not include?
Late cover insurance protects current works and the project set up, but does not cover pre-existing damage. Before late cover is provided we require written declaration of no known or reported losses since the project inception.
How can I avoid needing late cover?
Being prepared at the project kick off is essential. We know that there is a lot of paperwork and planning required, especially for architects, but it is essential to ensure you insure.
We can provide a useful checklist for architects which can be used with your client, to minimise the risk of missing out key elements of the project set up. Please get in touch to receive our checklist.
How Renovation Insurance Brokers can help
To enquire further about late cover for you or your clients' renovation project please don't hesitate to get in touch with our team. We're always available to answer your questions and provide tailored cover for your project.
We'd also recommend visiting our Knowledge Base for more renovation insurance advice.