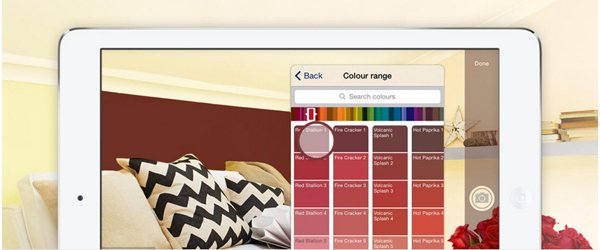 Whether you're in the midst of your renovation project or you're still in those all-important planning stages, we're certain that there's an app for that!
The benefits of using a renovation-planning app
From apps that help you calculate the costs of your renovation works, to ones that let you create mood boards of what your dream property will look like after completion – there are many apps on the market nowadays that harness the powers of modern technology for the benefit of your renovation project.
And, even if you're not carrying out all the renovation work yourself (if you're thinking of hiring an architect or interior designer) there's no reason why you can't make use of these apps – to help give your renovation professionals an idea of the sort of work you want to be carried out.
With that in mind, we've put together our pick of the best design and renovation planning apps out there. Which ones will you download first?
Our favourite renovation apps
1. Dulux Colour app
Spotted the perfect colour for your kitchen walls whilst out and about? Use this colour matching app to take a picture of your preferred colour then sit back whilst the app matches it to the nearest shade in its Dulux colour range.
You're then able to virtually test this colour out on the various interior and exterior walls of your home to see if it suits your renovation plan designs.
2. Home Builder Pro Calculators app
We here at Renovation Insurance Brokers are pretty big fans of this app. With over 400 calculators (metric and imperial measurements) that can calculate anything from business expenses to how much concrete and paving you're going to need for your job, the Home Builder Pro Calculators app is a must-have app for builders and DIY pros alike.
3. Pinterest
Forget having to make a scrapbook or mood-board as you would've done in the past. Why not try Pinterest instead?
Simply create your own 'boards' then 'pin' style and design inspiration photos from other websites, Pinterest users and blogs to get inspiration for your next renovation project.
Want to see how it's done? Take a look at our Pinterest boards and don't forget to follow the Renovation Insurance Brokers account!

4. Planner 5D
This particular app helps you to create your ideal home. So, whether you want to map out a floor plan or design your dream home's interior, this Planner 5D app is the one for you.
"Use Planner 5D to create detailed floor plans and modern interior designs like a pro easily. No special skills or knowledge are necessary" – Planner 5D
Simply design your dream space in 2D or 3D form. Then, push the button and watch as your model comes alive in photorealistic form. Great for giving your designers a snapshot of your vision that they can then work with.
Don't forget your renovation insurance
Once you've tinkered around with the various apps and are about to embark on your renovation project, the next thing to bear in mind is the renovation insurance needed to cover your property renovation project – that's where we can help.
Get in touch with one of our insurance specialists today to find out more about the type of renovation insurance needed for your project.
In the meantime, please take a look at our handy knowledge base section for more information about the types of renovation insurance that your project may be liable for.
Otherwise, you might like to join in the conversation over on our Renovation Professionals LinkedIn group for more renovation tips and hints from those in the know.
Picture credit: Dulux