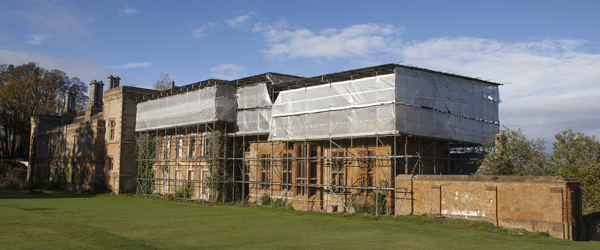 Imagine living your life totally risk-free, it can't be much fun. Boarding a plane would be out of the question so you certainly wouldn't go anywhere interesting on holiday. But, before you could even make it to the airport, you'd have to leave the house. And, leaving your house puts you at risk of being hit by cars, lightning or falling coconuts.
An extreme example, certainly. But when it comes to insurance, some people have a similarly skewed approach. Even within the industry there exists an attitude which suggests that risk is something to be avoided like the plague.
While this approach will shield you from the worst potential losses, it also forces you to shy away from potential gains. Effectively, this is the perfect approach if you want your career to be a no-score draw.
The cutting edge of risk management strategy
We like to think we're a little bolder than that. Getting the right insurance is about placing the value of a beautiful, completed renovation above that of letting a property stagnate. With the right expertise on your side, it's possible to cast a practiced eye over all the possibilities, be they technical or human and say with confidence that you can make it happen without losing sleep.
You can find examples of renovations gone wrong which were covered by the right insurance in our knowledge base, but others haven't been so lucky. Look at the catastrophe which occurred where a botched renovation and inadequate insurance caused a house to break in half, leaving the home owners with a hefty legal bill. So where does the difference come from?
Get to know the risk management process
In these situations, knowledge is power. The first step to properly risk-managing any renovation project, whether in a quiet countryside setting or among the hubbub of London, is knowing how the land lies.
Who are the key players? What does success look like? What are the budgets and time scales involved? All this contextual information goes towards establishing the ideal picture of a flawless, smoothly-run renovation project.
Then you need to put your pessimistic hat on. From envisioning your beautifully renovated property, get to picking apart the process and identifying factors which can go wrong at every step.
As a general tip, a lot of these can stem from your choice of contractor. Time spent researching the best choice, asking around for recommendations or even inspecting their past work is never wasted. For a list of the renovation professionals whose services we recommend for your renovation project, please take a look at our Partners page.
Then comes the fun part. With as many facts as you can possibly gather laid out in front of you, ask yourself whether the payoff when it's all said and done is going to add more to your life than the potential headaches.
Monetary considerations are always going to take pride of place here, but in a highly personal affair like a luxury renovation project, some people are willing to take a surprisingly big hit if it means they'll have the right long-term environment for them and their families.
As mentioned earlier, it's not about avoiding risk. It's about understanding it. Forewarned is forearmed, and with the right knowledge comes the opportunity to make your renovation project happen with the proper accountability built in from day one.
Secure a properly risk-managed renovation project
Are you planning an ambitious renovation project in the UK? The best place to start is with advice and guidance from qualified, experienced experts.
No matter whether your renovation is large-scale or merely requires attention to detail, the team at Renovation Insurance Brokers is always up for a challenge. We're passionate about finding that perfect balance of risk and reward that comes with a truly exciting renovation project, so we'd love to hear from you.
Contact us today and let us help you on your first steps to one of the most formidable, yet enjoyable, experiences of your life.