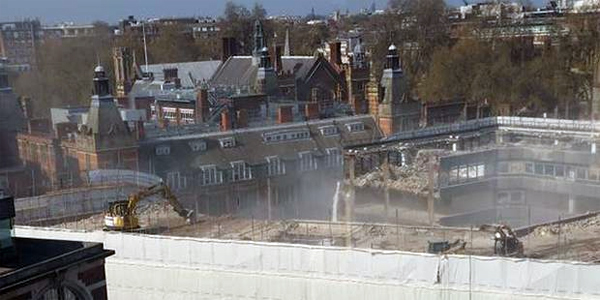 We're sure you were just as surprised as us to hear news this week of a six-storey building that collapsed in central London's Holborn area. We're also certain you were as curious as we were about finding out exactly what had caused this unfortunate event.
Holborn building collapse – what happened?
Around 200 people were evacuated from the building site itself and nearby properties when a six-storey building undergoing demolition work in Holborn collapsed between its fifth and second floors – bringing with it the scaffolding surrounding its four floors.
"Our best wishes go to the workman injured in this incident and we look forward to the findings of the HSE when published" Douglas Brown, Managing Partner
Thankfully, there were no fatalities, with just one man needing to be taken into hospital with head and hip injuries. The incident follows in the wake of an underground cable fire in the area just a few weeks earlier – though the two Holborn events are not thought to be connected.
HSE begins investigation into Holborn building collapse
Following the building collapse the HSE were informed and are now conducting a full investigation to see if there was any way this incident could have been avoided.
In the meantime, we thought we'd get renovation insurance professional Douglas Brown's (Managing Partner, Renovation Insurance Brokers) expert opinion on the matter to help shed some light on this particular incident.
Why did the Holborn building collapse?
This looks like a failure of the scaffolding design and structural engineering that could have caused the accident, only time and the HSE will tell ultimately.
Was this quite a complex London renovation project?
Though it's difficult to see from the photos, it looks as if some of the building was being retained, which is not unusual in London property developments. Retaining some parts of a structure when demolishing another is very difficult to get right and involves a lot of cost.
What caused the Holborn building's collapse?
It may be that the contractor, in this instance, had not priced for some shoring up which others had allowed for and won the contract on the basis that they were less expensive – there are rarely any short cuts to be had in these matters.
The only other point that needs making perhaps is that there have been a number of very windy days recently and these could have contributed to the weakening of the structure or supporting engineering works leading to this very unfortunate situation.
Does Renovation Insurance Brokers have experience of these types of complex, London-based projects?
Yes. In fact, we underwrite these risks very carefully and monitor the structures on a weekly and sometimes daily basis because the engineering work to hold them up is so complex.
We sometimes recommend that clients seek a second opinion on engineering works when they are very complex to sense check what has already been proposed. Our insurer partners also have their own in house engineers who are unafraid to speak their mind if they perceive risks beyond normal parameters in certain schemes.
How to insure your London renovation project
If you're planning a complex renovation project in London (or anywhere else in the UK for that matter) and would like advice on the insurance needed for your particular works then please do get in touch with us today.
Our team here at Renovation Insurance Brokers have a wealth of experience in this industry – in both standard and more complex renovation projects. We'd be happy to help – plus we do enjoy a good challenge!
In the meantime, please take a look at our handy knowledge base section for more information about the types of renovation insurance that your project may be liable for.
Photo Credit: Michelle Bayley / London Evening Standard