It's official, the new regulations are here and they're coming into force from the 6 April 2015. How prepared are you for the new CDM 2015 Regulations?
What are the CDM Regulations?
The Construction (Design and Management) Regulations and the accompanying Approved Code of Practice (ACOP) were introduced in 2007.
Their main aim was to focus attention on the planning and management of construction projects and to make sure that health and safety factors are included as standard during such construction projects.
In short, these regulations are a vital piece of health and safety legislation which apply to almost all types of construction, engineering and property development projects where people are at work.
Why have the CDM 2007 regulations been updated?
In an attempt to simplify the existing Construction (Design and Management) Regulations (2007), the Health and Safety Executive (HSE) has decided to replace these with a different set of regulations – dubbed the 'new CDMR'.
What are the key CDM Regulation changes?
Although many aspects of the CDM regulations will stay the same, there are several areas where there will be a marked difference between the rules that have gone before.
We've put together this handy graphic detailing the key changes outlined in the CDM Regulations 2015.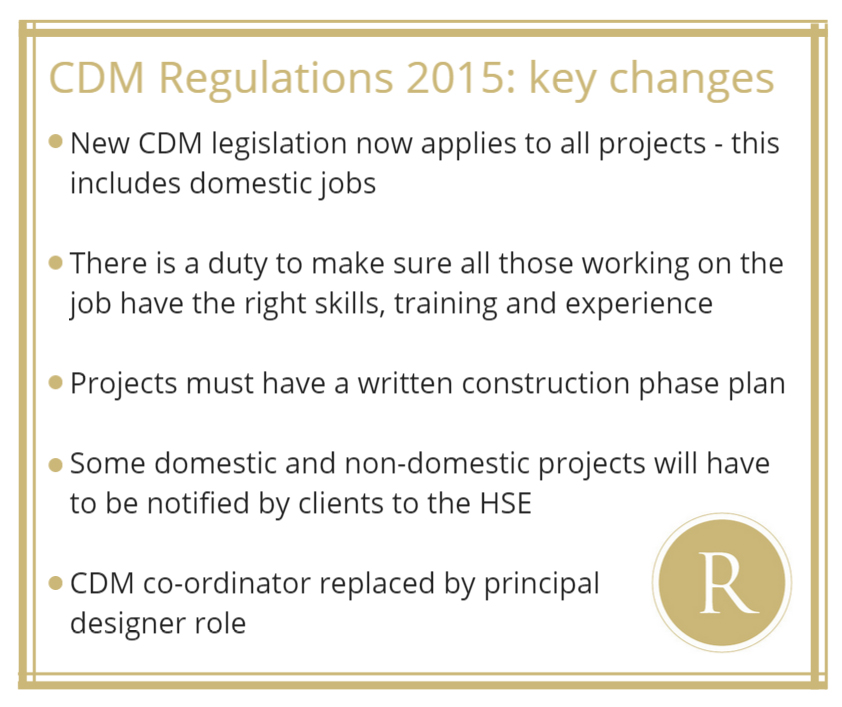 In which cases do the new regulations not apply?
The transitional provisions of the CDM Regulations 2015 are effective for all projects from April 6 (Easter Monday). The only exception is where all three of the following conditions are satisfied:
1. A CDM coordinator has been appointed before 6 April (Easter Monday) therefore effectively by 2 April (Maundy Thursday)
2. The project has started on site by that date – 2 April 2015
3. The date for completion is before 6 October 2015
If your project meets all of these criteria, you can continue to comply with the CDM 2007 Regulations as before.
Given the potential for increased compliance costs for the CDM 2015 Regulations, you may wish as many of your projects as possible to fall into this category.
"We advise that you look at all projects for which the date for completion is before 6 October 2015 and, if possible, appoint a CDM co-ordinator and take some action to ensure the project is on site" – Douglas Brown, Managing Partner
More information on CDM Regulations 2015
We hope this article has helped clear up some of the queries you may have had about transitioning from the existing CDM 2007 Regulations to the updates CDM 2015 version.
For more information about how the incoming CDM regulatory changes will affect your planned or ongoing renovation works, please don't hesitate to contact us. Our team of renovation insurance experts will be happy to help.
Otherwise, you can stay up to date with all the latest renovation and industry news by following us on LinkedIn or joining our Renovation Professionals group online.