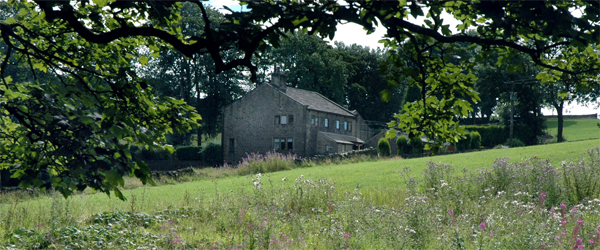 The subject of green belt land is one that often sparks debate. This was certainly the case following the recent publication of a report by think tank, Adam Smith Institute (ASI) on this very subject.
The report The Green Noose: An Analysis of Green Belts and Proposals for Reform, written by ASI fellow Tom Papworth suggests that there's a need for planning system reform (especially as regards green belt land within half a mile of train stations) and that selling off a small proportion of existing green belt land to developers will help ease the current housing crisis.
Unsurprisingly, the suggestions made by this report have sparked some debate.
What is Green Belt land?
The term green belt refers to any area of land (often found around the perimeter of larger cities) designated as being an area of open space.
There are several key purposes that such green belt land serves; the main one being to protect and preserve these areas from urban sprawl. The Department for Communities and Local Government (DCLG) also cites these reasons:
– To help protect the countryside from encroachment
– To safeguard the character of historic towns and villages
– To avoid neighbouring towns merging into one another
– To aid urban regeneration by encouraging the recycling and re-use of abandoned urban land
As of 2010 there were around 1.6 million hectares of designated green belt land in England alone. Wales, Northern Ireland and Scotland also have special preserved green areas too.
Taking this information into consideration, it seems that there is good reason to maintain these green belt areas into the future. But, what are the arguments for developing on this land?
Why should we build on the Green Belt?
One of the main points put forward by Tom Papworth in his report is the fact that Britain is facing an acute housing crisis. According to this DCLG data, the number of UK housing completions (in contrast with the soaring British population which has increased +18% since 1964) has fallen dramatically (-63%) from around 378,000 in 1969-70 to just 141,000 in 2013-14.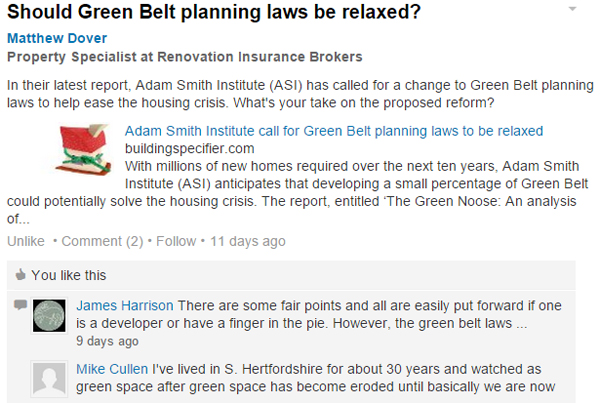 To counteract this, Tom proposes that the 2.5 million new homes required by Britain could be erected using just 2% of England's green belt. Alternatively, 1 million new homes could be built on green land around the capital (where it's most needed) – requiring just 3.7% of London's green belt.
"It is a myth that Britain is densely populated or highly built-up compared to similar countries." Tom Papworth, ASI
Other reasons for developing some of the existing green belt (as set out in this article by planning consultant Colin Wiles) relate to the fact that, contrary to popular belief, green belt land isn't chosen because it's particularly abundant in natural wildlife nor because it's particularly beautiful. As Colin explains: "much of it is poor-quality scrubland or used for intensive farming, and defined as green belt purely to stop cities from growing. Most of it is privately owned and not accessible to the public."
There's also an argument to say that having designated green belt land doesn't atucally stop cities from growing. Currently, expanding towns and cities simply continue after the green belt area ends – forming commuter belts instead.
Green Belt policy: the future
Whatever your take on the matter of green belt land, the fact still remains that Britain is facing an increasingly acute housing crisis that's only going to get worse the further into the future we get.
What's your opinion of current green belt policy? Do you think we should safeguard these green areas at all costs? Or, should we sacrifice some to create more housing? We'd be really interested to hear what you think!
Why not post your comment in the box below or join in the conversation over on our LinkedIn Renovation Professionals group?