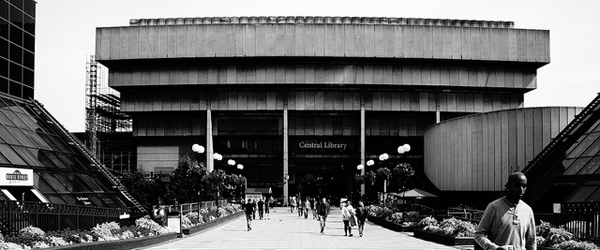 Demolition work began earlier this month to remove all trace of Birmingham's former central library from the face of the city centre landscape. Will you be sad to see this Brutalist building go?
A great example of British Brutalism
After construction work finished back in 1973, Birmingham Central Library became the city's main public library from 1974 until 2013.
The library building was designed by Birmingham-born architect John Madin in typical Brutalist style. With its use of concrete, stark geometry and fortress-like presence, the building quickly gained architectural praise as being a shining example of British Brutalism.
It was this which prompted English Heritage to apply for Birmingham Central Library to gain listed status. It tried and failed to achieve this. Twice.
Following its final attempt at securing listed status, Birmingham City Council (who had lobbied against the library becoming listed status) saw that the library was served a 5 year Certificate of Immunity from listing again until 2016. This meant that the building could no longer be protected from the bulldozers.
After just 39 years of service, the library finally closed its doors to the public in 2013. It now awaits the external demolition process to begin in February 2015.
Opposition to Birmingham Central Library
Ever since its creation, Birmingham Central Library's Brutalist style architecture has come under fire from various sides. In fact Prince Charles himself once famously described the building as looking like "a place where books are incinerated, not kept".
However, the library's £188 million predecessor, which is now the largest public library in the UK (forming part of the £500 million Paradise Circus scheme) has also sparked some debate over its modern façade.
Supporters of the library
You could be forgiven for thinking that there wasn't much support at all for Madin's Brutalist-style library, however, this most certainly wasn't the case.
"Contemporary architecture is never appreciated in its time. The Victorians hated Victorian architecture and the Georgians disliked Georgian architecture" – Matthew Dover, Property Specialist
The Friends of Birmingham Public Library for instance, fought tirelessly against the council's move to block the building from achieving listed status.
In fact, before demolition work began on the building, this group went so far as to plan a wake in Chamberlain Square to mark the life of the library that it fought for 12 long years to preserve.
And it seems the Friends of Birmingham Public Library were by no means alone in their support for the building itself. We took to LinkedIn to find out what other people's take on the demolition of this icon of British Brutalism was – many expressed their dismay at the building's demise.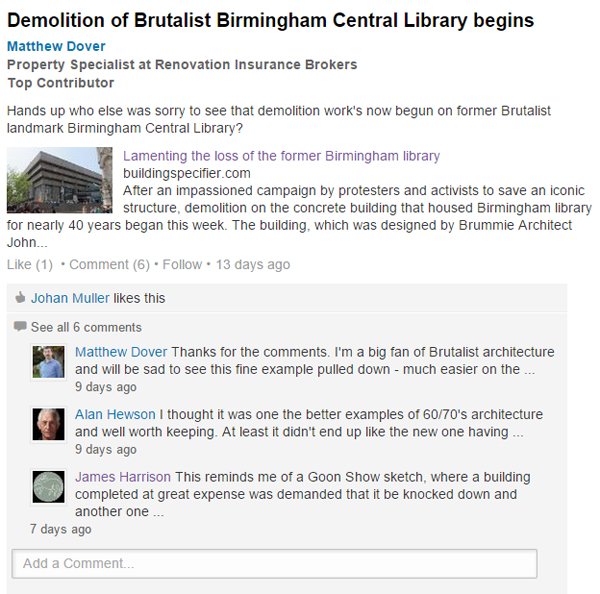 Whatever your opinion on the aesthetics of this Brutalist building though, we think most people would agree that demolishing a building after just 40 years' service seems somewhat of a shame.
Birmingham Central Library: where do you stand?
We here at Renovation Insurance Brokers (Matthew Dover, in particular) are fans of the Brutalist architecture style and will be sad to see the former library razed to the ground. Are you a fan of this distinctive architectural style too? What's your take on the planned demolition? We'd be interested to hear your thoughts!
Please, leave your comments in the box below. Or, why not join in the conversation over on our LinkedIn Renovation Professionals group and have your say on the week's hot topics?
Photo credit: lewishamdreamer