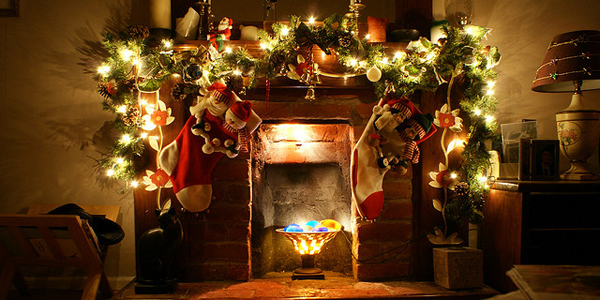 We don't know about you, but all this festive talk of chestnuts roasting on open fires and of hanging stockings around fireplaces has made us begin to think about overhauling our own fireplaces.
Whether you're planning to reinstate an existing fireplace (maybe replacing it by installing a wood-burning stove) or to build a completely new one, there are quite a few factors that you need to bear in mind.
Many people make the mistake of believing that refurbishing a chimney is a relatively minor home improvement. In fact, installing a chimney is actually regarded as a small extension.
If you've been inspired to take on the work of building or refurbishing a new fireplace, we recommend taking a look at our top tips for a successful fireplace renovation project.
Renovating a fireplace: what you need to know
1. Enlist the help of a structural engineer. When carrying out any work that involves a structural alteration to your fireplace, you need to make sure that an alternative means of support to the loadings above will be provided – to make sure that the remaining masonry above (in the loft, or room upstairs) will still take loadings from the chimney stack (which will need to be supported) above.
By seeking the help of a structural engineer, they will be able to calculate loadings and find a suitable solution
2. Party Wall Act. Does the chimney that you're working on intersect both yours and your neighbour's home? This is especially the case where you live in a terraced house. Where your chimney forms part of your neighbour's wall, you'll need to make sure that you have adequate party wall insurance.
3. Be aware of building regulations. When carrying out work on your chimney, building regulations tend to apply. This is most definitely the case when working upon a listed building. Before you begin any work on your chimney renovation project, be sure to take a look at the Building Regulations Approved Document J and the UK Implementation of European Standards for Chimneys and Flues. It really is a must-read for anyone looking to build or install a chimney, stove or fireplace!
4. Installing a gas fire. Did you know that, by law, the installation of any heat producing appliances must only be carried out by a Gas Safe registered engineer – who has to notify Building Control of the specifics of any work being undertaken? This is due to the fact that there is always the potential (no matter how small) for life-threatening dangers from fire and toxic fumes.
5. Research your options. Before building your new chimney why not do a bit of research? Take a look at what those in similar properties to yours (preferably in the same area) have done with their chimneys and fireplaces. Chances are, what works well for these properties (as they will most likely already have been built, or adapted for the local environment) will work well for yours too.
6. Which flue's best for you? Did you know that the type of flue you decide to install will have bearing on the type of fire you're able to fit? That's why it's important to choose which fire you would like first, then match the type of flue needed to this choice of fire. Otherwise, if you're still undecided, you could always get away with installing a Class 1 flue that's able to handle pretty much any types of fire.
For more information
If you're seriously considering undertaking a chimney renovation project, please don't hesitate to get in touch with our team of renovation professionals. We're always happy to discuss your project and talk you through the types of renovation insurance that you may need.
Otherwise, for more information on party wall insurance, please take a look at our handy Knowledge Base area for more information.
Photo Credit: Michael Watt