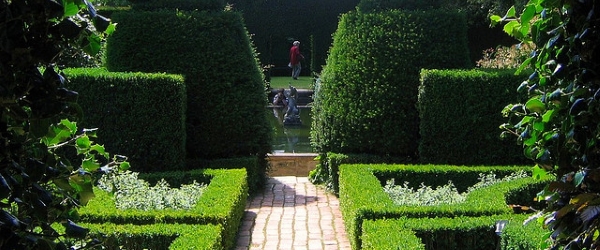 Flick through the pages of the glossy home magazines and you won't find one picture of a beautiful house without a beautiful, well crafted garden to match. We know the advantages of a well-preserved garden are:
adding value to a property
expanding the living space
offering a safe place for children to play in
offering a place to entertain friends and family
But how do you turn what's sometimes little more than an overgrown jungle, into a green and luscious pocket of beauty?
Finding a landscape gardener
A good gardener will do for the exterior what a good designer will do for the interior: transform your ideas and vision into reality. With sites such as ratedpeople.com, you can search the internet for local landscape gardeners who have received positive testimonials. Researching a landscape gardener is essential in order to find someone who shares your vision and has the skills to complete the project in a timely fashion.
Expectations of the gardener's role
Planning, surveying and project management are the 3 key roles you should expect from your gardener. Garden landscaping can be a tricky and somewhat precarious venture, with a multitude of things that run the risk of going wrong.
Ask to see all the drawings, blueprints and price plans well ahead of the starting date. A competent landscape gardener won't just do what you ask, they will ensure that all your ideas converge, ultimately bringing your vision to life. Although they may suggest changes or alterations in areas they feel will benefit the project, this will in no way compromise the overall design.
With highly elaborate plans, they may deem it necessary to hire an architect.
Time management
The downside of wanting the 'best' is that talented individuals are usually in high demand. However, it's definitely worth waiting! Once a contract has been agreed upon, the job should be completed within the designated time frame. With landscape gardening, it's important to keep to a well-planned schedule for planting bulbs, shrubs, grass and even installing things like ponds and patios. Nature doesn't stop things growing whilst a garden is taking shape. Your gardener should be able to work around the hours you allocate, and be willing to adapt to changes with reasonable notice if necessary.
Working relationship
Good landscape gardeners aren't afraid to offer their opinions on what works, what doesn't, what's too expensive, etc. As the client, it's a good tip to keep an eye on how the project is shaping up, ask questions, voice any dislikes you may have and don't wait until the end to make a dramatic alteration! Just like with any workforce, building a relationship makes it easier to follow the project step by step, thus avoiding major disagreements about unsatisfactory work that has been carried out.
Costing and fair pricing
It's perfectly acceptable for many landscape gardeners to request a small, up-front fee as a deposit. If, however, you are unsure about handing over cash before work begins, go through your contract with a solicitor first – just to be on the safe side.
References
Last but certainly not least, make sure your chosen landscape gardener is fully qualified. The best ones should be affiliated with the Association of Professional Landscapers, who state that all their landscapers "meet a required standard of professionalism and are able to provide full references on request".
There's no such thing as shabby chic when it comes to gardens. A stunning renovation project deserves a stunning garden to match.