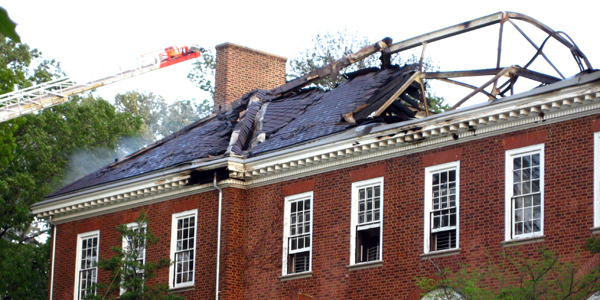 As work begins on rebuilding the Grade A listed Glasgow School of Art (GSA) after fire tore through it six months ago, we've turned our attention to the importance of ensuring your property is protected in the event of fire breaking out during the renovation process.
Forensic archaeologists have this week been sifting through the rubble of GSA's library (previously deemed one of the finest examples of Art Nouveau in the world) to see what can be saved from the building, designed by celebrated architect, Charles Rennie Mackintosh.
Following the blaze on 23 May this year, the library lost around 10 per cent of its structure to the flames – along with a further 30 percent of its contents. In an attempt to restore the building to its former glory, a £20 million fundraising campaign is now under way.
How to protect your property from fire
Construction sites are particularly vulnerable to fire – whether due to arson or faulty electrics. The costs associated with a fire onsite during construction work can be extremely high – not only in terms of building damage but also in terms of potential delays to the project and even loss of life.
In 1992, the Joint Code of Practice on the Protection from Fire of Construction Sites and Buildings Undergoing Renovation (JCOP) was introduced, following a couple of particularly high profile fires.
What is the Joint Fire Code?
The Joint Fire Code was created to provide guidance on on-site fire safety practices. The new code also details how property owners should go about preventing and detecting fires. This code covers all renovation activities – from the design and procurement of materials stage to the actual construction phase itself.
Although this code typically only applies to renovation contracts totalling more than £2.5 million in value, it may also apply to certain lower value projects that are considered to be higher risk in nature, or which form part of a larger overall project.
In fact, for certain construction contracts, it may be stated as a requirement of your specific insurance policy that the Joint Fire Code is complied with. The good news is that, your compliance with this Fire Code may see you secure a reduction in your insurance premiums.
However, you'll just need to make sure that you don't contravene any of the guidelines stated in the code, since failure to comply with the Joint Fire Code could result in the withdrawal of your insurance.
Is your renovation project protected from fire?
If you're unsure about JCOP and whether this code might apply to your renovation project you can find out more by taking a look at this in-depth Joint Fire Code guide.
Otherwise, for more information on the Fire Code and what this could mean for your renovation project, get in touch with one of our renovation professionals.
Photo Credit: Rudi Riet