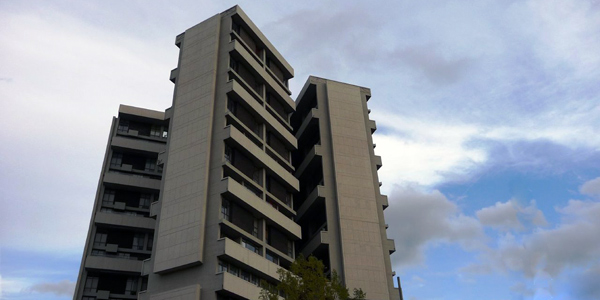 In our line of business we come across our fair share of unusual projects requiring renovation insurance. One such project that caught our attention recently was the proposed renovation of London's Keeling House – or, more accurately, the water tank on top of the building.
Keeling House is a 16-story block of flats that was designed by architect Sir Denys Lasdun, a man well-known for his Brutalist architectural designs.
This impressive post-war building, built back in 1955, comprises four separate blocks, organised in a bundle around a central column which houses a lift shaft. This is known as a 'cluster block'.
In 1993 the building was awarded Grade II* listed status – making it the first ever post-war building to receive this designation.
The renovation of Keeling House
This complex renovation project involves the renovation of the enormous concrete water tank, which currently sits right at the top of Keeling House's central lift shaft column – with the intention of converting this into a luxury duplex apartment.
Renovation insurance-wise, this project posed a unique set of challenges, that we were excited to get our teeth stuck into.
The challenges of insuring a Grade II* listed water tank
Amongst the main challenges relating to insuring this Grade II* listed construction, seventeen storeys above ground level, were those regarding liability and the insurance of existing structures.
Below is a run-down of some of the factors that we had to take into consideration (and which you might encounter with your future renovation projects) when advising on insurance for such a renovation project:
Grade II* listing: Depending on the construction type and listing status of your building's existing structures, these factors could potentially increase the rebuild cost by as much as three times over and above a building of standard modern construction. In the case of the Keeling House water tank, its Grade II* listing, although less onerous than Grade I or Ancient Monument designations, did, in terms of rebuild cost, impact insurance.
Urban location: The location of your renovation works also has a bearing on how liability insurers perceive your project – with factors such as proximity to school boarding houses being considered as grounds for an increased liability exposure on a site. In this instance increased liability exposure came from the fact that, not only are there tenants living below the construction work in the luxury apartments of Keeling House, but that (given the urban location and the work involved at height) any materials that were to fall from height could potentially pose a danger to passers-by.
Height: In projects such as this one where construction professionals will be working at height, it's worth noting that permits for scaffolding (which for this project will have to be erected up the sides of the 16 storey building) will have to obtained – for which a ground rental charge applies. Another consideration when working at height is the impact that high winds will have on you project completion date – with particularly high winds potentially delaying works and causing a project overrun.
Liabilities: Although building sites are inherently dangerous places (no more so than for contractors working 17 storeys above the ground) it's important to understand how you are exposed to certain liabilities in your type of project – be these liabilities to visitors, contractors or employees. Find out more about this in the liability section of our Knowledge Base and see whether you need to be aware of property owner's liability, project liability or employer's liability.
Having advised on the particular renovation insurance policy for this project, we're now really looking forward to seeing the renovation work under way. We'll be following up on the project as it progresses over the next few months.
In the meantime, if you have any questions about liability insurance,or indeed any other type of insurance which may apply to your renovation project, then please don't hesitate to contact us. Our team or insurance professionals will be more than happy to help with your questions.
Photo Credit: John Lord