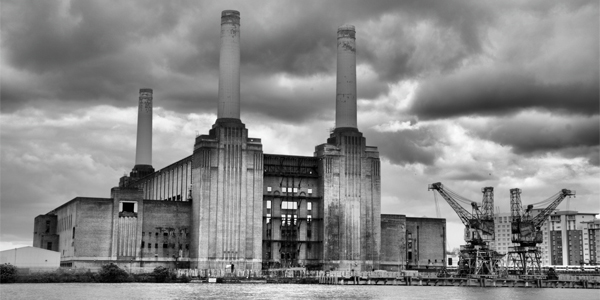 The UK Department for Communities and Local Government (DCLG) has recently announced the creation of a £200 million brownfield fund to encourage the building of up to 10 new housing zones across the country.
This new announcement paves the way for the building of thousands of new homes upon brownfield land. But what are brownfield plots and how could this affect your renovation project?
What is brownfield land?
Brownfield land is a term used to describe types of land which have previously been used for other, non-residential (industrial) purposes – the majority of which have since become derelict, vacant or contaminated.
Such plots may previously have been used as factories, builders' yards, railway stations and in some cases even, as petrol stations before falling vacant.
The term 'brownfield' came about from the fact that such areas are the polar opposite of 'greenfield' land, which is land that's never been developed before.
Building on brownfield land is typically favoured by councils since it provides a great way of allowing the regeneration of typical urban brownfield areas whilst also avoiding any further development in areas of countryside.
What should you consider when renovating on brownfield land?
Battersea Power Station is a classic example of how a listed building found upon brownfield land can provide the perfect opportunity for renovation – whereby renovators have turned the disused power station into 254 brand new, luxury apartments.
However, there are a few factors that need to be taken into consideration before embarking on either the redevelopment or regeneration of brownfield land.
1. Contamination is one such potential issue – especially where you're planning to build upon the site of a former factory or petrol station. Although there are plenty of ways that industrial waste and contamination can be cleared up, this can occasionally prove quite costly and should be taken into consideration when budgeting for your renovation project.
These types of brownfield regeneration projects typically require a significant amount of preparatory regenerative work before any renovation or building work takes place.
2. Limited building growth is another issue that needs addressing before embarking on your particular renovation or building project – especially if you have your heart set upon having a garden! Since space is relatively tight amongst these urban area brownfield plots, it tends to be unlikely that there will be adequate space for a garden.
As a consequence, whilst such land would provide the perfect place for the building of luxury apartments (which tend not to come with a garden) it may not be the best place for the family home of your dreams.
3. Lack of green space. If your brownfield plot isn't big enough to accommodate a garden area, chances are there won't be much green space (or wildlife) in the vicinity either. This is due to the fact that, until fairly recently (June 2010) gardens were classified as brownfield land, placing them in the same category as former factories and disused railways!
This led to many people 'garden-grabbing' and building new houses in others properties' back gardens. This means that much of the green space that was initially there has now gone – along with the urban wildlife too.
If you're considering renovating a property within a designated brownfield area, it's always advisable to get in touch with a professional renovation insurance broker to find out exactly what types of cover your particular project requires.
For more information on the various types of renovation insurance you may need, please take a look at our handy Knowledge Base.