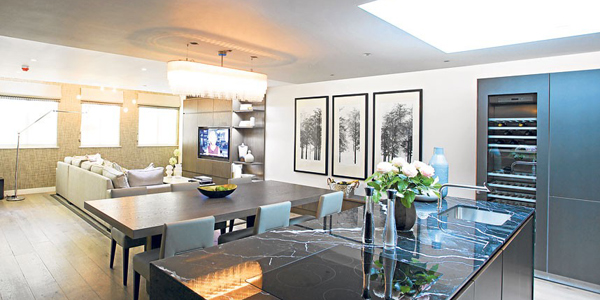 To circumvent the reality of London's chronic building space shortage, more and more residents are opting to convert their basements – much to their neighbours' annoyance!
To put things into perspective, whilst just 46 planning applications were received by the borough of Kensington and Chelsea in 2001, this number has skyrocketed to 450 in 2013.
Why are basement conversions such big business?
In some cases, where residents are unable to build either upwards or outwards, they decide instead to build downwards. By undertaking extensive building work, homeowners can create up to three- or four-storey basements to house their subterranean swimming pools and garages – hence the term 'iceberg' house.
The undertaking of such extensive work has prompted outcry from many residents – mainly due to the amount of noise, debris and occasional subsidence of their own adjoining property stemming from renovation works.
Other residents, such as actress Joan Collins, also takes issue with the fact that such extensive 'mega-basement' home-improvements are undertaken by residents who only spend a few months of the year in the house to which all this renovation work is being done.
However, if you do decide to go underground to extend your urban house, there are a few precautions to take in order to make things easier for all involved!
Top tips for going underground with your renovation
1. Take out party wall insurance. One of the most important things you can do (for both yourself and your neighbour) is to make sure you take out party wall insurance (which a reputable renovation insurance specialist will be able to advise you on) beforehand.
The Party Wall Insurance Act (1996) ensures that you're protected against any (non-negligent) structural damage that may happen, either to yours or your neighbours' properties, in the months following the completion of your renovation – typically as a cause of contractor negligence, though this cannot always be clearly established.
For more information on party wall insurance, watch the video below or refer to our Knowledge Base section.
2. Use recommended professionals. To ensure your work gets done to the highest standard possible (and to avoid irritating your neighbours in the process!) make sure that you employ professional contractors to carry out your renovation work.
One urban rumour that's been doing the rounds most recently is that certain contractors simply leave their JCB diggers buried underground in such mega-basements' foundations, rather than waste time and money recuperating them.
Basement renovation expert Stephen Merritt (MD of London Basement) refutes this though, pointing out that of the 1200 basement conversions his firm's carried out, they haven't lost a single mini excavator.
By making sure you pick the best people for the job (see our partners page for the trusted professionals with whom we recommend working) you can avoid this – along with additional mess, noise and stress of works overrunning.
3. Don't forget about subterranean liability. Unlike party wall insurance, which only covers non-negligent acts by you or your contractor, it doesn't insure against situations where liability can be clearly established.
This is why you need to double check that your contractor and their subcontractors have adequate liability insurance to cope with any structural damage they may cause – to both you and your neighbours' properties.
More information
After taking each of these factors into consideration, undertaking your renovation project and creating your very own 'iceberg' home should be plain sailing!
For more information how we here at Renovation Insurance Brokers can help with your project please don't hesitate to get in contact with us.