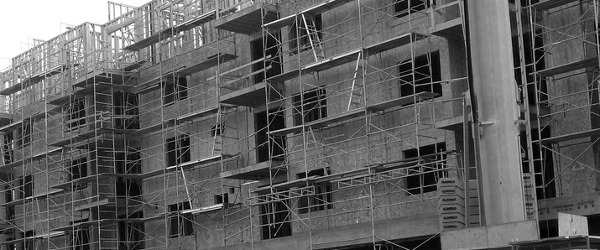 When embarking on a self-build or renovation project it is important to consider the impact of any incident occurring on the premises, particularly if it results in an injury to a person or damage to a third party's property.
Building sites in particular carry potential risks – statistically, accidents and injuries occur more frequently here than in any other work environment.
If held liable, a renovator could incur unexpected financial losses that could seriously affect their project and even business. This is when liability insurance comes into play. This cover is vital when carrying out work to transform a property, but it is also important to understand which type of liability insurance applies to each stage of your project.
Property owners' liability
Property owners are liable for incidents that take place on their property even if they are not quite ready to start building. In fact, as soon as you purchase the plot for a renovation, you become liable for any injury or damage suffered by third parties who visit the site, including builders and members of the public – whether that person is expected on the site or not. A claim could arise at any stage of the project, even in unexpected situations such as a courier or postman suffering an injury on a broken step whilst at your property. Because of this, owners need to be careful to avoid facing a lawsuit arising from such situations.
The circumstances surrounding the building work itself would also need to be covered. Owners have an obligation towards anyone they employ to carry out renovation work. Factors such as builders, materials and equipment on site should be taken into consideration.
Public liability insurance
Full public liability insurance provides protection for a property owner should legal action be taken against them, for personal injury or damage to neighbouring properties during the works. This type of policy ensures your builder is covered, as well as the structure when they are not working on it. It is also essential for owners who are using sub-contractors to handle on-site health and safety issues.
Employers' liability
Although many prefer to employ a main contractor to undertake and manage the project, renovators are increasingly deciding to manage sub-contractors by themselves or with the help of their architect. Owners who are using labour-only sub-contractors are likely to need employer's liability insurance, as these workers charge by the day and usually don't have their own insurance to handle health and safety on the premises.
If owners are using labour-only workers to carry out individual tasks without them undertaking a quote process or providing materials, it is highly likely that Employer's Liability will be legally required under the Employers Liability (Compulsory Insurance) Act 1969.
Insurers will issue an Employer's Liability Certificate, which states the minimum level of cover provided and those covered by the policy. Failure to comply with the Act could result in a £1,000 fine. The Health and Safety Executive provides a full guide for employers. Insurers should also provide contacts for Construction, Design & Management (CDM) training to maintain safety for your contractors on site during works.
(Photo by Keoni Cabral)