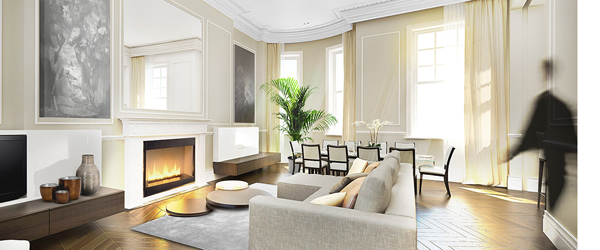 As part of their continuing professional development, we joined the team at Nick Leith-Smith to talk about insuring private client renovations.
Founded back in 2000, Nick Leith-Smith (NLS) is a leading, architectural practice that specialises in bespoke, contemporary design. Their projects range in scope, from one-off furniture commissions to new-build, private homes.
With particularly strong ties to both the fashion and design worlds, it comes as little surprise to see names such as Manolo Blanhik, Kurt Geiger and Harvey Nichols feature amongst their roll call of prestigious, former clients.
Aside from their specialism in international retail for the fashion and luxury brands market, NLS are also well adept at undertaking projects involving listed residential and conservation buildings, within the central London area.
By combining their talents for both architecture and interior design, NLS create bespoke buildings with unique interiors. It's also this approach, along with their unrivalled attention to detail, that has secured them a clutch of prestigious design awards – from Condé Nast and Design Week, amongst others.
NLS is just one of a selection of partners with whom we work, and whose services we recommend for you and your particular renovation projects. For more information on our trusted partner firms please refer to our partners area of the website.
Photo credit: Nick Leith-Smith