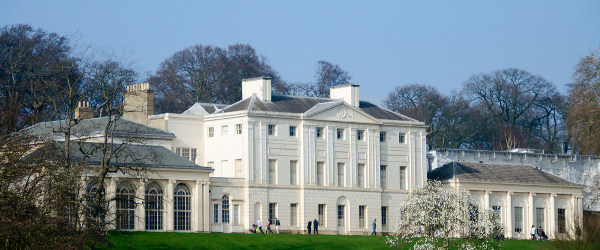 English Heritage has shown that through a combination of smart investment, careful planning, and the use of modern technology, a listed building can be brought back to what it once was – and more.
This is a great encouragement to many would-be buyers who worry that older buildings which have been unoccupied or ignored for years are hopeless cases or impossible to restore to their former glory.
Bringing the past to life
Last year's restoration of Kenwood House is a fantastic example of how a building can be magnificently restored, even if it has been largely ignored for years. The property, despite being a glorious example of 18th century architecture, had not featured its original colours and internal decoration for over 200 years.
Yet English Heritage managed to deliver one of its most awe-inspiring results to date, with the flagship Library and Breakfast Room being almost an exact representation of the design intended by Robert Adam, the celebrated Scottish architect. Using a combination of drawings and colour samples, English Heritage was able to accurately restore the original design.
While investors may find it difficult to find detailed documented evidence for less well-known properties, it's still very possible that some detective work will yield some great results. Try and delve into the historical record to find original descriptions or photos of your building. Ask your local authority and relevant historical organisations for advice.
Meticulous planning
When it comes to starting a project on a listed or historical building, planning is paramount. English Heritage's success in the restoration of properties is largely due to excellent project management – from concept to delivery. There are usually high expectations when it comes to restoration projects and it will take meticulous planning to ensure that your project honours the property's heritage, mixes modern with traditional, and possibly results in a new home to live in as well. It will add some extra time to the completion of the project, but that will be more than worth it.
Achieving energy efficiency
The challenge in making your project energy efficient is found in preserving the historical character and integrity of the building whilst maximising the use of modern technology. Research by Glasgow University on behalf of English Heritage has shown that the performance of sash windows in older buildings can be significantly improved without the need of replacement. For example, cast iron stoves and older radiators can still be used. So explore the options available to you in terms of refurbishment first, before opting for replacement.
Microgeneration of power is also a worthwhile consideration. For example, generating energy through solar panels is a great way to invest in the self-sufficiency of your listed building. The government's Green Deal may be able to help you financially. If you live in a conservation area, you may need permission from the relevant authorities.
Looking ahead: maintenance
Keeping a listed building or older home is not just about restoring its period pieces or refurbishment. You also need to consider the long term maintenance of the grounds, the architectural integrity of the building, as well as interior design. Factors such as keeping the building dry and ensuring weak points are monitored consistently all combine to ensure that you don't have to revisit problem areas too soon in the future. It is much more difficult to replace or fix period pieces than it is to maintain them. While it can be somewhat demanding in the short term, it will save you a lot of headaches in the future.
(Photo by Garry Knight)